What are the different parts of a DUXTON window?
Window Anatomy 101 – Below you can find an example of a DUXTON window installed in a wall. There are a number of different frames, installation options, and interior finishes available. Explore the different Options or Contact Us to select the product that will best fit your project.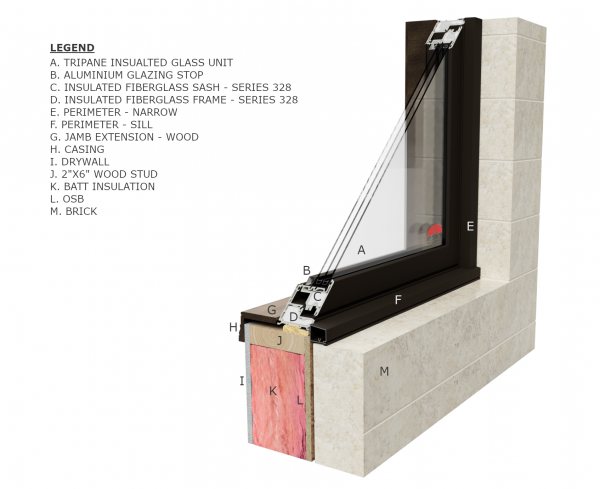 ---
Why should I choose fiberglass windows and doors?
Visit Why Fiberglass
---
How do I achieve the look I want with DUXTON Windows & Doors?
Fiberglass windows actually offer almost endless design flexibility. Any colour can be applied not only on the exterior, but on the interior as well. DUXTON's windows suit contemporary homes especially well, due to the slim frames, the ability to do large sizes, and the ability to paint the frames dark or metallic colours. The simplest, most modern window typically has lots of glass area (Lo Profile Fixed or FiberWallTM Fixed), no grills, and a drywall return back to the window (no casing).
In contrast, you can achieve the look of a traditional window with a wood liner, or a wood-wrapped frame. These options maintain the richness of original wood windows, with the upside of having a low-maintenance fiberglass frame. You can also select a Hi Profile Fixed frame, to maintain consistent sight lines with Casements and Awnings.
There are also many Grill options to simulate divided lites to replicate traditional or country-style windows, and enhance the character of your home.
Visit our Inspiration page to view our gallery, and see how other customers have combined different options to achieve their perfect look.
---
Is there a dealer in my area?
CANADA:
Manitoba, Saskatchewan, Alberta, British Columbia, Ontario, Yukon, Northwest Territories, and Nunavut.
UNITED STATES OF AMERICA:
North Dakota, Minnesota, Wisconsin, and Michigan.
Please contact us so we can connect you with the nearest dealer in your area.
---
Do you install?
DUXTON offers pricing as Supply + Install, as well as Supply Only, depending on the details of the project. If you require installation, contact DUXTON for a quote, and we can connect you with an installer/dealer suited to your project requirements and geographic area.
---
How much do fiberglass windows cost compared to vinyl, aluminum, or wood metal clad?
Visit Why Fiberglass
---
Do you have standard sizes?
All windows are made-to-order to fit a diverse range of sizes required by our customers, so there are no standard window sizes.
Swinging Doors and Sliding Doors are offered in both standard and custom sizes. Doors should be ordered in standard sizes for optimum pricing and lead times.
---
Do you offer vinyl, aluminum, or wood windows and doors?
At this time, DUXTON offers exclusively fiberglass windows and doors. We believe fiberglass to be one of the best, if not the best, window and door framing material currently available on the market.
DUXTON's product options can achieve the appealing characteristics of other materials – from packed mulls, to real wood interiors, to metallic finishes that look like aluminum, to ventros – DUXTON's system offers extensive flexibility to achieve the right aesthetic without compromising performance or durability.
---
Do you offer a curtain wall system?
DUXTON offers a unique FiberWallTM series that offers similar features to a curtain wall system, however it is made of fiberglass. FiberWall™ offers large, spanning walls of glass, minimal frame sitelines, and improved R-values over typical curtain wall systems. The system is designed to fit oversized punched openings with surprising capabilities. Previous projects have ranged from an 80' wide credit union façade, to towering configurations that span over two floors, with spandrel panels. Contact us with details of your project.
---
Do you offer a thermally broken frame?
Fiberglass has a much lower conductivity compared to aluminum, hence thermal breaks are not required in fiberglass windows. Fiberglass is actually used as a thermal break itself for certain applications.
---
What is your warranty?
DUXTON offers a 20-year limited warranty on the frame AND sealed unit, and the frame is expected to last even longer. In an independent study conducted by the University of British Columbia, fiberglass was found to have a life expectancy about 40% longer than vinyl.
Our Windows and Sliding Doors Warranty
---
Does casing/window trim get replaced in a retrofit?
Sometimes the customer has casing that they would like to keep. In these situations, the installer will assess whether this is possible and if so take extra care to re-use the existing casing. Keep in mind that the casing may fit the new windows differently, and touch-up paint may be required on the walls.
In other situations where the casing will be replaced, ask your dealer/installer for options. DUXTON does not include new casing in the quote unless requested. There are many options available from a variety of retailers.
---
Do fiberglass frames require maintenance or re-painting?
Fiberglass frames are low maintenance, and do not require re-finishing as they are painted with an automotive finish for long-term durability. The frames will not rot or absorb water like wood windows. Fiberglass is a high quality material that will stand the test of time.
---
Can you re-paint fiberglass frames?
Yes. In its raw state, fiberglass is a porous material, and paint adheres well. Be sure to prepare the surface prior to re-painting.
---
Why do I have outdoor condensation on my windows?
Condensation on the outdoor surface of an insulating glass unit is not an indication that the insulating glass unit is defective. Under these set of conditions, it is possible to get exterior condensation:
Glass temperature below dew point temperature
Clear night sky
Still air
High relative humidity
Well-insulated glazing
The presence of moisture indicates that the specific set of atmospheric conditions exists and that the insulating glass unit is working, by insulating the building from the environment. There is little or nothing that can be done to prevent its recurrence. Dew formation on grass, car hoods, etc. is common and accepted as a fact of nature. Only when the glass temperature rises above the dew point will the condensation evaporate.
---
Are your windows interior or exterior glazed?
The majority of DUXTON windows are glazed from the interior. The benefit is ease of replacement from the interior, especially in the case of high rise buildings.
---
Are your Swinging Doors fiberglass?
Yes, all of our Swinging Doors have both insulated fiberglass panels and frames. We believe in the strength and durability of the material, and choose to offer only fiberglass frames in all of our series.
---